If you fail to remove Adobe Digital edition PDF/epub DRM, it most because you hasn't authorize computer in Adobe Digital Editions, this is step by step guide to authorize computer in ADE.

Video : authorize computer in ADE
1 If you aren't prompted to authorize ADE the first time you open it, you can go to Help > Authorize Computer to start the process manually.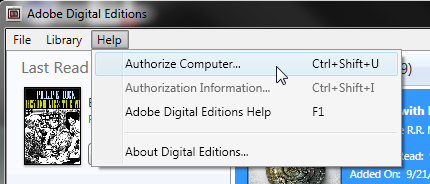 Screenshot showing the Help menu with authorize computer selected
2 If you have an Adobe ID, enter it along with your password.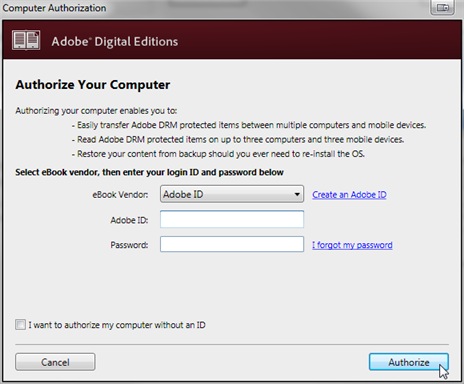 3 If you do not have an Adobe ID, click Create an Adobe ID to make one on Adobe's website.
Once you're done, return to the Computer Authorization dialog box and enter your Adobe ID and password.
4 Click Authorize. Your computer is now authorized with your Adobe ID.
Note: If you choose to authorize your computer without an ID, you will still be able to view eBooks on your computer. However, you will not be able to transfer or download those titles to other devices.
Authorizing computer enables you to:
Easily transfer Adobe DRM protected items between multiple computer and mobile devices
Read Adobe DRM protected items on up to 6 devices
Restore your content from backup when you ever need to re-install the OS.
Related Articles