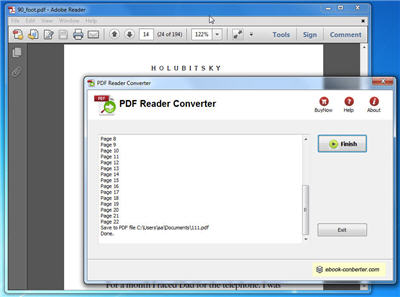 PDF Reader Converter is tools remove DRM protection from Adobe LiveCycle Policy Server for PDF file, it create a new non-DRM PDF file with 1-click, the new PDF file can read in Windows,Mac without limitation, user also can print PDF file. It is very easy to user, just 1-click to copy DRM book.

Download for Windows Download for Mac 2.0M Buy Now
V3.0 Released !
* support new version Adobe Acrobat Reader .
* support text search, copy .
Key Features
One-click converter.
Work with Adobe Reader.
PDF has captured image page from Adobe Reader.
Text function support, search and select copy.
Create a new non-drm file, no need to backup the source files.
Support PDF
DRM PDF from Adobe LiveCycle Policy Server
All other DRM PDF file opened in Adobe Reader.
Screenshots
Adobe® LiveCycle® Policy Server
Adobe® LiveCycle® Policy Server software enables you to apply rights management policies directly at the document level, so you can control who has access to the information and what the person can do with it. Most importantly, you can update or revoke these access and usage rights at any time, even if the document has been distributed outside the organization, so you can exchange your most sensitive and valued information with greater confidence and protect regulated information while collaborating in a global environment.
Adobe LiveCycle Policy Server offers a multiplatform, multiformat solution for dynamic, persistent, and robust document rights management — greatly reducing costs and risks of protecting and controlling sensitive information. It also integrates with existing enterprise infrastructures, including existing authentication and enterprise content management (ECM) systems for cost-effective, centralized document protection, control, and policy administration.
PDF Reader Converter on softpedia.com
Related Articles