ePub drm removal – Remove DRM Protection,   a useful DRM removal program which can remove drm from your purchased or downloaded DRM protected epub, was able to convert to pdf format or other format, at high quality. Thus you can enjoy your ebooks anywhere.
It's time to decrypt those darned Adobe EPUB and PDF's and rip the Adept DRM out by the roots.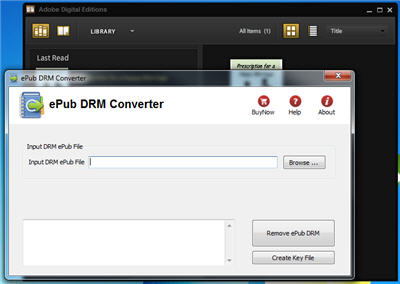 1. download ePub drm removal from ebook-converter.com, this tools has an easy-to-use interface to help new comers get up to speed.
Free ePub drm removal Download (Win) Download Mac version
2. Run ePub drm removal, select your epub file which you want to decrypt,
for epub file downloaded in digital editions, epub is located at :
for Windows , it is in "My documents\My Digital editons"
for Mac, it is "~/documents/Digital editons"
for epub file downloaded in Sony Library, epub is located at :
for windows, it is in "My documents\My Books\Reader Library\"
for Mac, it is in "~/documents/My Books/Reader Library/"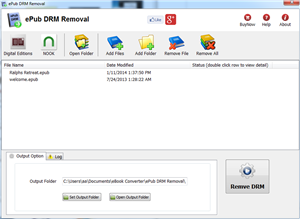 3. click "Remove" button, a new epub file created withou drm protect.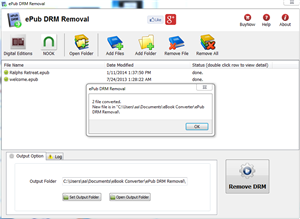 4. Convert epub to PDF format using Calibre, delete origin ebook in Calibre first, then add new no-drm ebook into calibre, follow is detail tutorial.

ePub eBook
EPUB is a free and open e-book standard by the International Digital Publishing Forum (IDPF). Files have the extension .epub.
An EPUB file can optionally contain DRM as an additional layer, but it is not required by the specifications. In addition, the specification does not name any particular DRM system to use, so publishers can choose a DRM scheme to their liking. However, future versions of EPUB (specifically OCF) may specify a format for DRM.
There are a variety of options for publishers who want to create digital editions. Some vendors provide a high service model, where publishers can simply send a pdf and detailed instructions to their vendor. The vendor then creates the digital edition from scratch and provides a high quality product the publisher can offer its readers. Unfortunately, high service comes at a high price. This kind of vendor is ideal for a company with a big budget and no time to get involved in creating a digital edition.
Digital Edition Converter is  a solution that tries to capture  the need of many user to convert digital editions to PDF file without the high cost. Using a highly intuitive wizard model, user can converter their own digital editions ebook in about five minutes.
Related Articles